Jan Pellant
Artistic and Music Advisor
A native of the Czech Republic, Jan Pellant accepted the position of Artistic Director/Conductor of the Coeur d'Alene Symphony in July 2018. Previously, Jan had been Music Director of the Lexington Chamber Orchestra and has conducted more than 30 leading orchestras across the world including the Czech National Symphony Orchestra, Prague Symphony Orchestra and the North Czech Philharmonic Orchestra.
He has led performances with the Pilsen Opera and the University of Kentucky Opera Theater, and led the Prague Karlin Theater on an eleven-city tour of Romania in 2007. Jan studied at the Prague Academy of the Performing Arts, and he holds degrees from the Prague Conservatory, Carnegie Mellon University and University of Kentucky. Jan Pellant has served as professor of conducting and orchestra studies on the faculty of the New York Conservatory and the International Conservatory in Prague.
Andrew Maurer
Piano
Andrew Maurer completed his undergraduate studies at the University of Idaho with bachelor's degrees in Piano Performance and Marketing in 2018 and a master's degree in Piano Performance in 2020. He was a winner of the 2014 University of Idaho Concerto Competition and performed the opening movement of Rachmaninoff Piano Concerto No. 3. Soon after, he was awarded the gold medal as a Musicfest Northwest Young Artist and performed with the Spokane Symphony.
Andrew has also been an active member of the University of Idaho Music Teachers National Association Chapter and has presented at the Collegiate Piano Pedagogy Symposiums in Texas and Florida and the MTNA 2018 National Conference. Andrew's teaching philosophy begins by establishing and building trust with students and fostering confidence in themselves and their abilities. As such, he hopes to communicate what he has learned to the next generation of musicians.
Karen Sanchez
Viola, Violin, Chamber Coach
Karen Sanchez is a graduate of the California State University, Long Beach where she majored in viola. She works as a freelance musician and teacher throughout Southern California. For 19 years Mrs. Sanchez was Youth Strings Conductor and Associate Artistic Director of the Conejo Valley Youth Orchestra. She has a special ability to motivate and train young string players. Her kind and caring approach to young musicians produces a very high quality of music education. Her students excel and strive for excellence while learning and having fun.
Brantley Bacon
Percussion, Piano, & Composition
(On sabbatical through March 2023)
Brantley is a percussionist, pianist and composer with degrees in Music Education and Music Composition and a minor in Jazz Studies. Music theory and aural skills are his true passions, and he believes they are vital for any musician seeking true mastery of the art form.
Caden Davis
Trumpet
Caden Davis is a graduate of the Lionel Hampton School of Music, with a Bachelors degree in Trumpet Performance. He is the current Director of Worship Arts at Christ the King Lutheran Church. Caden has played and taught guitar for several years, as well as Zimbabwean marimba. In the Fall of 2021, Caden will tour the U.S. with Santa Fe-based group Polyphony Marimba. He loves conducting, composing, and arranging as well, and has conducted and written works for various high school and university ensembles.
Channing Dance
Early Childhood Education
Channing Dance, mother of 7 children, has been teaching children's music classes for 20 years, combining her two greatest loves – children and music. Channing's music classes create a bonding experience for children and their caregivers with rhythm, pitch, creative movement, and imagination, drawing on children's curiosity and natural love of music. Channing's teaching career began at Gymboree Play & Music. She incorporates aspects of Kindermusik and Music Together music in her early childhood classes. She attended BYU and graduated from the University of Houston with a bachelor's degree in Communication Disorders
Dr. Erik Sloyk
Guitar
A native of Coeur d'Alene, Idaho, guitarist Erik Sloyka holds a B.M. in Guitar Performance from the Eastman School of Music, and a M.M. and a D.M.A. in Guitar Performance from Arizona State University's Herberger Institute for Design and the Arts—School of Music, where he also taught private guitar lessons and guitar methods courses.
He has taught at the Ahwatukee Music Studio, Foothills Music School, Destiny Community School, and Youth Development Institute in Phoenix, Arizona. In addition to winning numerous prizes at competitions, Dr. Sloyka has extensive performance experience, including radio broadcasts and appearing as a guest soloist with the Spokane Symphony Orchestra. He is also a faculty guitar instructor at Arizona School for the Arts, Phoenix College, and Kirk's Studio for the Performing Arts.
Jacquelyn Claxton M Ed, MT-BC
Board Certified Music Therapist
Jacquelyn currently conducts Music Therapy sessions with special needs clients in the Post Falls/Coeur d'Alene area. At the Conservatory, she is available for individual and group sessions using the intrinsic characteristics and elements of music to enhance the engagement and social connections of people with different challenges.
Jacquelyn's life work has been to find ways to enhance the lives of special people with music. She sings and plays the guitar and utilizes drums and rhythm instruments in her sessions. Additionally, she uses non-traditional melodic instruments, such as chimes, xylophones, and keyboards in her sessions. Jacquelyn has provided Music Therapy in many different settings over the course of her career and finds joy in discovering new ways to share music with new people.
Richard Altenbach
Violin
Richard Altenbach performs as Concertmaster for the new North Idaho Philharmonia and occasionally as First Violin in the Spokane Symphony. Formerly Concertmaster of the Auburn Symphony (CA), InConcert Sierra, Mozart Camerata and the Apollo Arts Ensemble, he is an active chamber musician. He was First Violinist with Houston Symphony, Los Angeles Chamber Orchestra (25 years), Joffrey Ballet, LA Opera and Hollywood Bowl Orchestras. An A-list Hollywood recording musician, Richard has been involved in over 1000 film scores (including the Jurassic Park series) working with John Williams, Hans Zimmer, and Danny Elfman (Principal 2nd), and has participated in hundreds of albums for artists such as Barbra Streisand, Frank Sinatra, Yo-Yo Ma, Aerosmith and Puff Daddy.
As an educator, Richard has served as Director for the district-wide junior and senior high school string orchestra program in Omaha, NE and as Director of the Music in the Mountains Youth Orchestra (CA). Richard privately teaches composition, notation and violin. Community and Digital Arts College courses he has offered include History of Music Production and two popular seminars: A Century of Music in Film and Home Studio Recording on a Budget.
He also composes music for film, video games and concert stage.
Bobby Meador
Guitar
Bobby Meador is a guitarist, educator, and composer currently residing in North Idaho where he teaches lessons in guitar, composition, music theory, ukulele, and electric bass. He was raised in Orofino, Idaho. He developed his love for music by playing Metallica in his childhood basement! Deciding that there was more to music than hard rock and metal, Bobby chose to study classical guitar under James Reid at the University of Idaho (Moscow) where he obtained his Bachelor's and Master's degrees in Guitar Performance. He served as instructor at U of I teaching courses in Music Theory, Aural Skills, History of Rock and Roll as well as private guitar lessons. At the Moscow (ID) Music Conservatory, Bobby also taught guitar, electric bass, voice and ukulele.
In accord with his pedagogical philosophy of music, Bobby's current research project, a guitar method book, focuses on building the understanding of classical, jazz, and rock theory simultaneously with mastering the physical concepts of guitar playing, with the aim of helping develop well-rounded players who are equipped for success in music theory and performance.
Moira Kurtz
Early Childhood Education
Moira is a recent graduate of Trevecca Nazarene University in Nashville, TN, where she attained a B.M. in Music Theory and Composition. While her main artistic focus is vocal studies, she has also studied piano and saxophone. Moira is also passionate about composing for media and creating community-building art.
Sherma Higgs
Early Childhood Education
Sherma Higgs has been teaching in the Coeur d' Alene School District for 32 years. Her passion is teaching young children through the love of music. She incorporates early reading skills into music, movement, rhythm, and voice. Exposing young children to music of all kinds, introducing different instruments and the elements of music, is the map to better learning for children. She has a masters degree in Early Childhood Special Education, a Bachelor's degree in Elementary Education and a minor in Music Education. She likes to say her best instrument is her voice. She is looking forward to being a part of the music conservatory to elevate music in children's lives.
Kent Kimball
Conducting
Kent studied conducting at LA City College, University of CA Northridge, Whitworth University, University of CA Los Angeles (UCLA), and University of Southern Calif (USC). He has studied conducting with David Glismann, Charles Hirt, Roger Wagner, Robert Shaw, Alice Parker, Howard Swan, Paul Salamunivitz & Helmut Rieling. As a vocal soloist, he has appeared with the Spokane Symphony, Festival at Sandpoint, Omaha Philharmonic, Spokane Opera, Inland Northwest Opera, Zepher & the Spokane String Quartet.
He has appeared with the Northwest Bach Festival (9 yrs), LA Philharmonic, LA Master Chorale, Hollywood Bowl Symphony Orchestra, Royal Philharmonic Orchestra (London), Allegro, Century Singers, the Good News Singers & the Westminster Chamber Orchestra. An "LA Times" reviewer wrote of his conducting at the Wilshire Ebell Theater "rhythmically precise, well-balanced performances…a model of beautiful choral blend and tone."
Selah Rauwolf
Early Childhood Education
Selah's (pronounced Say-luh) music education and journey spans over 25 years beginning with Suzuki Method piano and violin as a young child through high school. Although piano was her first instrument, she became a member of the Napa Youth Symphony as a violinist during her high school years. Her passion for music led her to explore songwriting which soon opened a path to working with prominent music producers in Los Angeles.
At age nineteen she signed a publishing contract with Criterion Music for her original music EP. Upon graduation from Ave Maria University, Selah married to her highschool sweetheart and started a family. In 2015, after having two children, she continued pursuing music and was invited to relocate to Los Angeles and sign as a songwriter with Monica Benson's publishing company BOK MUSIC (whose placements include Selena Gomez, Julia Michaels, Kelly Clarkson).
Selah experienced great success with BOK including music placements as a songwriter and performer. Opportunities opened up to collaborate with major record artists and work with producers from all over the world. Just before re-locating her family to North Idaho in 2020, Selah received her BA in Business Administration and delivered her third child. Now, as a homeschooling mother of four, she enjoys teaching children and mentoring those interested in songwriting and music production.
Thankful for a vibrant and welcoming new home in Coeur d'Alene, she has made a point to invest what time she can to help the Conservatory, as music is an essential cornerstone to any community. She is currently helping as Conservatory Registrar and will be teaching her first class (Mini Music Makers II) in the Fall of 2022.
Dante D'Angelo
Jazz Studies/Alto Saxophone
Danté D'Angelo is a professional musician trained who graduated magma cum laude from Sonoma State University with a Bachelors Degree in Jazz Studies at age 20. He finished grad school at age 21 while in his second year of teaching Highschool music. Danté continued his teaching career as a middle school band director and private instructor, and is currently teaching elementary music.
He believes in creating self motivated students who love to independently practice and expand upon the musical knowledge and techniques they obtain. His main instrument is Alto Saxophone and has performed across the country with jazz masters such as Marcus Shelby and Arturo Sandoval, and has performed live on San Francisco's number one jazz radio station KCSM. He now leads a jazz combo in Coeur d'Alene known as DBBQ which perform live on a weekly basis.
Katheryn Weller
Harp
Katheryn Weller has been playing the harp for 22 years. Her first instructor in the harp shaped her passion for music in the idea that "music should be shared and never kept to oneself". You will often find her playing for weddings and other private events. Passing on music through her students is a privilege she is happy to be able to now offer at the Music Conservatory of Coeur d'Alene.
Diana Christine Clemons
Viola
Diana has earned two Master's Degrees: Viola Performance from The Juilliard School, and Film Composition from the Seattle Film Institute. She has played in the pit, on stage, improvises with rock bands and jazz ensembles, is a multiple grant recipient, public speaker, teacher, published author, has toured internationally, and has been featured in Viola Magazine (JAVS). Diana has created a heart-warming theatrical performance called, "Life is a Cadenza", which promotes the viola and the fiddle with joy and humor. Diana loves to teach and she LOVES to play.
Diana also trains horses and teaches children with disabilities to ride, which prompted her to new heights in unconventionality. Diana can play the viola while riding a horse.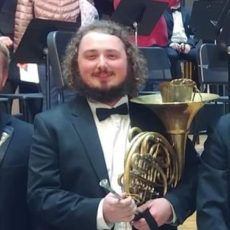 Hunter Strobel
French Horn
My pursuit of music began in middle school playing French Horn. Before leaving high I knew I wanted to be a music teacher. The next steps took me to the Lionel Hampton School of Music at the University of Idaho. At University, I began exploring as many instruments as I could and took a special interest in the cello which I studied alongside the French horn. After graduating with a bachelors degree in music education, I accepted a music director position in St. Maries Idaho where I serve currently as the high school and middle school band and choir director.