Richard Altenbach
Violin
Richard Altenbach performs as Concertmaster for the new North Idaho Philharmonia and occasionally as First Violin in the Spokane Symphony. Formerly Concertmaster of the Auburn Symphony (CA), InConcert Sierra, Mozart Camerata and the Apollo Arts Ensemble, he is an active chamber musician. He was First Violinist with Houston Symphony, Los Angeles Chamber Orchestra (25 years), Joffrey Ballet, LA Opera and Hollywood Bowl Orchestras. An A-list Hollywood recording musician, Richard has been involved in over 1000 film scores (including the Jurassic Park series) working with John Williams, Hans Zimmer, and Danny Elfman (Principal 2nd), and has participated in hundreds of albums for artists such as Barbra Streisand, Frank Sinatra, Yo-Yo Ma, Aerosmith and Puff Daddy.
As an educator, Richard has served as Director for the district-wide junior and senior high school string orchestra program in Omaha, NE and as Director of the Music in the Mountains Youth Orchestra (CA). Richard privately teaches composition, notation and violin. Community and Digital Arts College courses he has offered include History of Music Production and two popular seminars: A Century of Music in Film and Home Studio Recording on a Budget.
He also composes music for film, video games and concert stage.
David Brewster
Piano
David enjoys an active career as a pianist, music director, and conductor in the greater Spokane area.
He holds the degrees of Master of Arts in Music (Washington State University, 2008) and Bachelor of Arts in Music (Whitworth University, 2006). In 2007 he participated in the Bösendorfer International Piano Academy in Vienna, Austria.
In addition to his work as a collaborative pianist with Chorale Coeur d'Alene, David has also appeared with the Spokane Symphony Chorale, Spokane Chorale Artists, and Spokane Kantorei Choir. David is on the Advisory Council for the Idaho Central Spokane Valley Performing Arts Center, scheduled to open in summer 2024, and serves as music director and conductor for Spokane Valley Summer Theatre's summer programming as well as its Big Band Christmas shows.
As a pianist, David has toured throughout the United States and Canada with Irish tenor Michael Londra as part of his Celtic Fire and Ireland with Michael tours. Aside from his career as a musician, David enjoys skiing, cycling, cooking, and being Liberty's husband and "Dada" to Fiona and Rowan.
Jacquelyn Claxton M Ed, MT-BC
Board Certified Music Therapist
Jacquelyn currently conducts Music Therapy sessions with special needs clients in the Post Falls/Coeur d'Alene area. At the Conservatory, she is available for individual and group sessions using the intrinsic characteristics and elements of music to enhance the engagement and social connections of people with different challenges.
Jacquelyn's life work has been to find ways to enhance the lives of special people with music. She sings and plays the guitar and utilizes drums and rhythm instruments in her sessions. Additionally, she uses non-traditional melodic instruments, such as chimes, xylophones, and keyboards in her sessions. Jacquelyn has provided Music Therapy in many different settings over the course of her career and finds joy in discovering new ways to share music with new people.
Channing Dance
Early Childhood Education
Channing Dance, mother of 7 children, has been teaching children's music classes for 20 years, combining her two greatest loves – children and music. Channing's music classes create a bonding experience for children and their caregivers with rhythm, pitch, creative movement, and imagination, drawing on children's curiosity and natural love of music. Channing's teaching career began at Gymboree Play & Music. She incorporates aspects of Kindermusik and Music Together music in her early childhood classes. She attended BYU and graduated from the University of Houston with a bachelor's degree in Communication Disorders
Danté D'Angelo
Music Educator
Danté D'Angelo is an experienced music educator with a Bachelors Degree in Jazz Studies and Music Education as well as graduate studies in Education. Has has been a high school band director for two years, middle school band director for one, and taught elementary music for two years as well. In addition, he has specialized in private lessons on Saxophone, Guitar, and Percussion for 10 years.
Originally from San Francisco, Danté performed as an alto saxophonist with big name jazz artists such as Marcus Shelby and Arturo Sandoval from local stages like Cafe Stritch in San Jose to main stages like Yoshi's in Oakland. He was the lead horn of a house band out of Savannah Jazz club that frequently aired on San Francisco's KCSM-FM jazz station. Danté continues to perform music and has began focusing on the blues and rock n roll vocals in addition to saxophone.
His deep passion for music education is centered around individualized learning, and motivation. Prompting his students to create goals, Danté specializes in adapting and modifying his instruction to best fit his students' needs in achieving success.
Caden Davis
Trumpet
Caden Davis is a graduate of the Lionel Hampton School of Music, with a Bachelors degree in Trumpet Performance. He is the current Director of Worship Arts at Christ the King Lutheran Church. Caden has played and taught guitar for several years, as well as Zimbabwean marimba. In the Fall of 2021, Caden will tour the U.S. with Santa Fe-based group Polyphony Marimba. He loves conducting, composing, and arranging as well, and has conducted and written works for various high school and university ensembles.
Caleb Hill
BASSOON
Caleb Hill has been playing bassoon since 2005 and teaching since 2011. He is currently serving as Principal Bassoon in both the Coeur d'Alene Symphony Orchestra and the North Idaho Philharmonia. He's excited to perform as part of the Coeur d'Alene Woodwind Quintet as well.
Caleb studied bassoon performance under Dr. Christian Smith at Brigham Young University. While there, he played bassoon and contra-bassoon in the Philharmonic and Symphony Orchestras. Caleb spent 4 years working as a recording engineer for the BYU School of Music and there discovered a love for digital audio technologies. Since graduating from BYU, he has performed in many different places and with many different groups across Utah, Nevada, and Idaho.
Caleb is married to his eternal sweetheart, Elizabeth. Together they have a one- year-old son, named Liam, who is the greatest cause of both joy and chaos in their lives. He and his family moved to Hayden, Idaho in 2021. Caleb currently works as a Data Science Analyst for Kochava, a Mobile Measurement Partner located in Sandpoint, Idaho.
Alyssa Jacobs
Alyssa graduated cum laude from Brigham Young University with bachelor's and master's degrees from the school of education while minoring in piano performance. It was here that she discovered her passion to make music accessible to all children regardless of race, ethnicity, developmental ability, and socioeconomic status. In graduate school, she focused her work on auditory learning pathways of the brain and early childhood literacy development. She has received post graduate training for neurodivergent children and specializes in teaching those with ADHD, dyslexia, auditory processing disorders, and those on the autism spectrum. Alyssa uses a multimodality approach to teaching, combining aural and kinesthetic skills while developing a child's discipline to musical literacy.
A Boise native, Alyssa has expanded her career by teaching in the Dallas, TX public school district and also operated a large piano studio in Raleigh, NC before moving to Coeur d'Alene. Her passion is bringing families together in the community and she finds joy in supporting her own children's musical progress. She has recorded two albums of children's lullabies and enjoys accompanying within the Coeur d'Alene school district. Alyssa's creative focus has always been to use music as a way to love and inspire a child as they navigate their own unique journeys.
Terry M. L. Jones
After receiving a Master of Arts in Music Education and a Master of Music in Instrumental Conducting, from Eastern Washington University, Terry became the director of bands at North Idaho College. For over thirty
years, he conducted the NIC Wind Symphony, directed the NIC Jazz Ensemble, and directed the Cardinal Pep Band. In addition to his performing groups, his other NIC teaching duties include Survey of Music over the Internet, Studio Trumpet. He also taught Survey of American Popular Music and Survey of World Music, two courses he designed. He was the founder of the "Gathering of the Bands", a mass middle school band festival and of "JazzNIC", a three day series of big band clinics. After his retirement, Terry started the Couer d' Alene Chamber Music Society. Currently he performs with two brass quintets: Fossil Five and CdA BrassX5; two orchestras: Panhandle Symphony and the North Idaho Philharmonic and the Coeur d' Alene Big Band. Terry also works as a student teaching advisor for Washington State University and the University of Idaho. He also continues to adjudicate and guest conduct throughout Idaho, Montana, and Washington.
Kent Kimball
Conducting
Kent studied conducting at LA City College, University of CA Northridge, Whitworth University, University of CA Los Angeles (UCLA), and University of Southern Calif (USC). He has studied conducting with David Glismann, Charles Hirt, Roger Wagner, Robert Shaw, Alice Parker, Howard Swan, Paul Salamunivitz & Helmut Rieling. As a vocal soloist, he has appeared with the Spokane Symphony, Festival at Sandpoint, Omaha Philharmonic, Spokane Opera, Inland Northwest Opera, Zepher & the Spokane String Quartet.
He has appeared with the Northwest Bach Festival (9 yrs), LA Philharmonic, LA Master Chorale, Hollywood Bowl Symphony Orchestra, Royal Philharmonic Orchestra (London), Allegro, Century Singers, the Good News Singers & the Westminster Chamber Orchestra. An "LA Times" reviewer wrote of his conducting at the Wilshire Ebell Theater "rhythmically precise, well-balanced performances…a model of beautiful choral blend and tone."
Denika Kleinmann
Dr. Denika Kleinmann joined the music faculty at Spokane Falls Community College in 2019. She holds a Bachelor of Music degree from Biola University, a Master of Music and a Doctorate of Musical Arts degree in cello performance from the University of North Texas, studying with Eugene Osadchy. She recorded with the Stream of Praise Christian Music Foundation in CA and recorded with pianist Lynn Yew Evers in WA. Their New Age recording titled, "Without Words" has won the Global Music Award and a Grammy Nomination in 2015. While in Texas, Dr. Kleinmann was the Teaching Fellow at the University of North Texas and the cello professor at the Music Conservatory of Texas. She has performed with Plano Symphony, Irving Symphony, San Angelo Symphony, Monroe Symphony, Walla-Walla Symphony, Mid-Columbia Symphony, Yakima Symphony, Tacoma Symphony and Spokane Symphony. She served as the assistant principal cellist at Tacoma Symphony from 2013-2015 and she is currently the assistant principal cellist at Yakima Symphony.
Moira Kurtz
Early Childhood Education
Moira is a recent graduate of Trevecca Nazarene University in Nashville, TN, where she attained a B.M. in Music Theory and Composition. While her main artistic focus is vocal studies, she has also studied piano and saxophone. Moira is also passionate about composing for media and creating community-building art.
Asuka Lewis
Asuka was born and raised in Hyogo,Japan. She graduated from the Osaka Welfare Technical School in 2011 and had worked in a pre-school and daycare setting for several years while residing in Japan. Ever since she moved to the United States, she has been continuing to take care of children and has been teaching Japanese culture to the children that she cares for. As a Japanese preschool teacher, she will be teaching the art of Taiko and its rich culture to our students. Japanese Taiko is not only about drumming, It also provides an in depth look into the culture, history and discipline that molds students into skilled Taiko drummers! She is very excited to introduce the Taiko drum and its beautiful Japanese culture.
Andrew Maurer
Piano
Andrew Maurer completed his undergraduate studies at the University of Idaho with bachelor's degrees in Piano Performance and Marketing in 2018 and a master's degree in Piano Performance in 2020. He was a winner of the 2014 University of Idaho Concerto Competition and performed the opening movement of Rachmaninoff Piano Concerto No. 3. Soon after, he was awarded the gold medal as a Musicfest Northwest Young Artist and performed with the Spokane Symphony.
Andrew has also been an active member of the University of Idaho Music Teachers National Association Chapter and has presented at the Collegiate Piano Pedagogy Symposiums in Texas and Florida and the MTNA 2018 National Conference. Andrew's teaching philosophy begins by establishing and building trust with students and fostering confidence in themselves and their abilities. As such, he hopes to communicate what he has learned to the next generation of musicians.
Bobby Meador
Guitar
Bobby Meador is a guitarist, educator, and composer currently residing in North Idaho where he teaches lessons in guitar, composition, music theory, ukulele, and electric bass. He was raised in Orofino, Idaho. He developed his love for music by playing Metallica in his childhood basement! Deciding that there was more to music than hard rock and metal, Bobby chose to study classical guitar under James Reid at the University of Idaho (Moscow) where he obtained his Bachelor's and Master's degrees in Guitar Performance. He served as instructor at U of I teaching courses in Music Theory, Aural Skills, History of Rock and Roll as well as private guitar lessons. At the Moscow (ID) Music Conservatory, Bobby also taught guitar, electric bass, voice and ukulele.
In accord with his pedagogical philosophy of music, Bobby's current research project, a guitar method book, focuses on building the understanding of classical, jazz, and rock theory simultaneously with mastering the physical concepts of guitar playing, with the aim of helping develop well-rounded players who are equipped for success in music theory and performance.
AlekSandra Ratajczak
While at Interlochen Music camp, AlekSandra auditioned for the scholarship to the music school at the University of Michigan, where she subsequently studied oboe performance. She has studied under Detroit Symphony oboist Ron Odmark, and under Harry Sargons while at U of M. AlekSandra has played oboe and English horn in many pit orchestras, chamber music, weddings, funerals, music ministry for decades, including 12 years with the International Symphony Orchestra of Sarnia Ontario and Port Huron, MI. She recently returned to North Idaho and has played in the Messiah orchestra, and at Music Conservatory of Coeur d'Alene, Music Conservatory of Sandpoint and the Music Conservatory of Coeur d'Alene Quintet.
Emily Sana
Vocals – Youth Choir Director
Emily Sana graduated from Vanderbilt University with a BS in Human/Organizational Development and Music. She pursued private vocal studies in Florida with Dr. Carole Clifford, later singing in classical and jazz vocal ensembles at Vanderbilt's Blair School of Music.
Mrs. Sana performed for more than ten seasons with the Seattle Symphony Chorale, under the direction of Maestros Gerard Schwarz, Ludovic Morlot, and Joseph Crnko. She enjoyed choral preparation of guest choral conductors Helmut Rilling, Masaaki Suzuki, and Stephen Layton. She participated in the full-scale works Benjamin Britten's A War Requiem, Berlioz' Requiem, and Bernstein's Wonderful Town. Her favorite pieces are J.S. Bach's sacred works St. Matthew Passion and Mass in B Minor, and Edward Elgar's Dream of Gerontius set to the poetry of Cardinal John Henry Newman.
Emily Sana sings in liturgical settings as a cantor and as chorister of schola choirs in several region parishes. She has taught general K-8 music in Seattle and Spokane, also leading select auditioned youth choirs in those schools.
Wendy Smith
Wendy holds a degree from Central Washington University in Music Education, with further studies in flute performance. As an educator with over 40 years of public and private teaching experience, she has been an active flute ensemble director, adjudicator, and flute instructor for beginners through adults. She believes in preparing students for a life-long journey of musical discovery and enrichment along with a solid pedagogy to achieve their musical goals.
Currently, Wendy plays flute and piccolo with the Coeur d'Alene Symphony, and the NIC Band. She can often be found hiking and biking beautiful North Idaho trails, or exploring the Northwest with her adopted pug, Marla.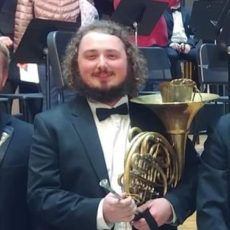 Hunter Strobel
French Horn
My pursuit of music began in middle school playing French Horn. Before leaving high I knew I wanted to be a music teacher. The next steps took me to the Lionel Hampton School of Music at the University of Idaho. At University, I began exploring as many instruments as I could and took a special interest in the cello which I studied alongside the French horn. After graduating with a bachelors degree in music education, I accepted a music director position in St. Maries Idaho where I serve currently as the high school and middle school band and choir director.
Jim Sullivan
James Sullivan began the clarinet at age ten, heard Mozart soon after, and became a lifer. He studied at Interlochen Arts Academy, Cleveland Institute of Music, Florida State University and California Institute of the Arts. Influences on his musical development were listening to music, reading, exploring ideas in aesthetics and philosophy, as well as his father's work ethic, his mother's passion for life, and many hours of conversation with treasured friends. Developing sitzfleisch played a role in things, too.
As a chamber musician, Sullivan has performed with Los Angeles Philharmonic Green Umbrella, Jacaranda, Tuesdays at Monk Space, Hear Now Festival, Music & Mansions, Boston Court, Microfest and Territory Festival in Moscow, Russia. Collaborations include working with Martin Chalifour, Vinnie Golia, Vicki Ray, Mark Robson, Billy Childs, Elissa Johnston, John Walz, Lyris Quartet, Eclipse Quartet, Brad Dutz Quartet, E.A.R. Unit, WildUp, WasteLAnd. A deep study of just intonation led to performing and recording with Partch Ensemble, Ben Johnston and Andrew McIntosh. Sullivan played with Kan Zaman, a classical Arabic ensemble, for ten years and learned the maqam system. As an orchestral musician, Sullivan has performed with Los Angeles Philharmonic, LA Opera, Santa Barbara Symphony, Pasadena Symphony and Pops, Seattle Symphony and Phoenix Symphony, working with conductors such as Esa-Pekka Solonen, Gustavo Dudamel and Dirk Brosse.
He has taught on the faculties of Pacific Lutheran University, The Master's College, Ventura College, The Academy of Creative Education, and has maintained a private student for twenty-seven years.
This past summer he relocated to Spirit Lake, Idaho and has performed with the Washington Idaho Symphony, North Idaho Philharmonia, Coeur D'Alene Symphony, and teaches at the Music Conservatory of Coeur D'Alene and his home studio.
Zeru Wang
A native of Hangzhou, China, Dr. Zeru Wang holds degrees from the University of Wisconsin-Madison and the University of Missouri-Columbia. His teachers include Christopher Taylor and Peter Miyamoto. Apart from appearing in the masterclasses of Frederic Chiu, Richard Goode, Sergei Babayan, Alessio Bax, Julian Martin, Marina Lomazov, Julio Elizalde, Gabriel Chodos, and Corey Hamn, he also studied with Peter Serkin, Yoon Hi Moon, Douglas Humphreys, Natalya Antonova, Bruce Brubaker, and Sean Duggan at various summer festivals. From 2022-2023, he served as the collaborative pianist and vocal coach at Gonzaga University.
As an active teacher, Dr. Wang enjoys giving private lessons to students of all ages. His past teaching experience includes teaching young and adult beginners and focuses on committed students of intermediate to advanced levels. He has successfully helped young students to pass ABRSM exams of all levels, high school students to win state- level piano competitions, high school students to be admitted to music colleges and graduate-level students in China to be successfully passed auditions in prestigious U. S. music schools. In 2019, he conducted piano masterclasses about Chopin's piano literature in Madison, Wisconsin. In 2021, he substituted for Professor Christopher Taylor at the University of Wisconsin-Madison to teach undergraduate and graduate level Piano Literature.
Katheryn Weller
Harp
Katheryn Weller has been playing the harp for 22 years. Her first instructor in the harp shaped her passion for music in the idea that "music should be shared and never kept to oneself". You will often find her playing for weddings and other private events. Passing on music through her students is a privilege she is happy to be able to now offer at the Music Conservatory of Coeur d'Alene.